Wouldn't it be wonderful if there were a children's book that would not only entertain, but contained a message that would help our children lead happier lives? Well, there is and Laughing Day is it! This engaging children's story will warm your heart and perhaps bring a tear to your eye.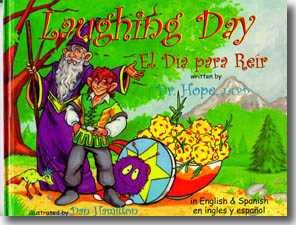 Laughing Day/El Dia para Reir (English and Spanish version)

Laughing Day

is another delightful story written in both English and Spanish. Oolong, a young lad from the village of the Boologs, searches for Pickled Palamadora, a delicacy that his mother has sent him to buy for the up coming Laughing Day celebration.

To his dismay, there is none to be found and he is sent off to the village of the Grumpies to find some. (Grumpies are a group of very disagreeable elves.) This sets the stage for an extraordinary adventure.

Oolong must pass through the scary Dark Forest in order to get to the Grumpies' village. Along the way, he learns a valuable life lesson from a wise old man who helps him when his pushcart looses a wheel. Oolong teaches this lesson to the Grumpies he encounters. A marvelous and wonderful thing happens when he returns home for the Laughing Day celebration.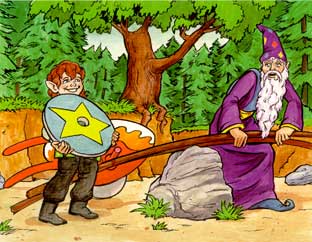 "As an educator I make it a point to read several children's books daily. Laughing Day stands out...because it not only has a beautiful rhyme and rhythm, but the message it spreads is valuable and essential to children of all ages."
Ms. Jessica Sandoval, Kindergarten Teacher
"I am a mother of four boys and have two young grandchildren. Laughing Day is a wonderful story with a moral lesson we all must teach our children and remind ourselves of."
Ms. Tana Gorzoch, Parent, Grandparent
$16.95

On the CD: Russ T. Nailz and other talented voice actors (Dr. Hope is one of them) act out the Laughing Day story. In addition, there are 5 original heart-warming and humorous tunes are included.
$16.95
¿No sería maravilloso si hubiera un libro para niños que no sólo entretuviera, sino que contuviera un mensaje, que ayudaría a nuestros hijos a llevar una vida más feliz? Bueno, hay, y es El Día para Reir. Esta atractiva historia infantil, enternecerá tu corazón y tal vez te emocione hasta las lágrimas.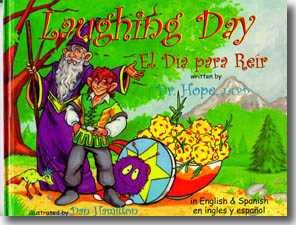 Laughing Day/El Dia para Reir
Laughing Day Es otra encantadora historia escrita en inglés y español. Se trata de Oolong, un joven muchacho de la aldea de los Boolog, busca Palamadora en escabeche, un manjar que su madre le ha enviado a comprar, para la próxima celebración del Día para Reir. Para su consternación, no encuentra nada, y debe ir a la aldea de los gruñones (que son unos elfos muy desagradables), a buscar algunos. Esto prepara el escenario para una aventura extraordinaria.
Oolong debe pasar por el aterrador Bosque Oscuro para llegar al pueblo de los gruñones. En el camino, aprende una valiosa lección de vida de un viejo sabio, que lo ayuda cuando su carretilla pierde una rueda. Oolong comparte esta lección con los gruñones que encuentra y algo maravilloso sucede cuando regresa a casa, para la celebración del Día para Reir.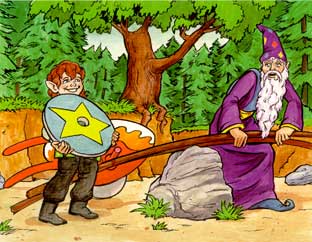 "Como educador, me encargo de leer varios libros infantiles diariamente. El Día de la Risa se destaca ... porque no solo tiene una hermosa rima y ritmo, sino que el mensaje que difunde es valioso y esencial para los niños de todas las edades ".
Ms. Jessica Sandoval, Kindergarten Teacher
"Soy madre de cuatro hijos y tengo dos nietos pequeños. El Día para Reir es una historia maravillosa con una lección moral que todos debemos enseñar a nuestros hijos y recordar".
Ms. Tana Gorzoch, Parent, Grandparent

En el CD: Russ T. Nailz y otros actores de voz talentosos (el Dr. Hope es uno de ellos) representan la historia de Chip en inglés y español. Además, se incluyen 5 melodías originales conmovedoras y humorísticas.